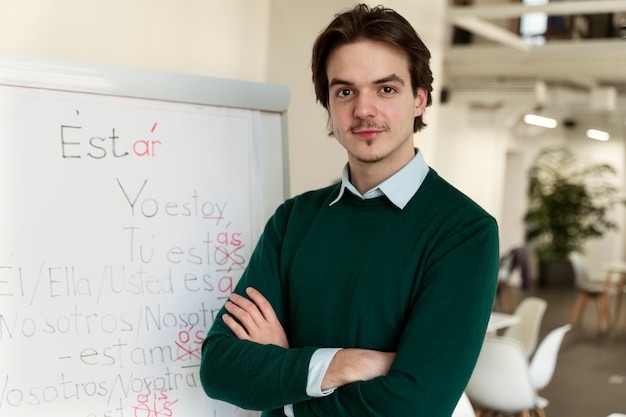 PTE
Looking For PTE Preparation Course Online ?
Make your PTE story
PTE test preparation online courses are readily available to support your readiness for the Pearson Test of English (PTE) Academic exam. These comprehensive courses aim to enhance your English language skills while familiarizing you with the PTE Academic test format and content.
Fast PTE Online Preparation focuses on the four vital modules of the English language – Listening, Speaking, Reading, and Writing (LSRW). This program helps people gain the skills and knowledge needed to do well in the PTE Academic test. Our certified and experienced trainers provide expert PTE training online and guidance to help you strive for an outstanding score.
Our online PTE coaching program helps you improve your time management skills and proficiency by providing real test scenarios and questions. We will help you reach your desired PTE Academic good score with PTE tutorials, PTE practice tests, and mock exams.
Our best PTE online classes offer a flexible schedule, empowering you to arrange sessions conveniently. The Fast online PTE course is carefully created to help you succeed in the original or PTE Academic tests. Our primary focus revolves around enhancing your skills in the reading and writing modules, ultimately resulting in an improved PTE score.
Moreover, we delve into AI scoring methods, equipping you with a profound understanding of assessing your PTE exam. Our exam preparation strategies familiarize you with the Pearson scoring system and provide insights into handling repeated questions effectively. We guide you through exam day preparations, ensuring you feel confident and well-prepared.
Choose Fast PTE Preparation Online coaching today to embark on an effective and result-driven online preparation journey. Join us to realize your dream of achieving an impressive PTE desired score.
What Is PTE?
The Pearson Test of English (PTE) Academic is a computer-based English language proficiency test designed to assess and measure the English language skills of non-native speakers. It is widely recognized and accepted by educational institutions, governments, and organizations around the world, especially for study, work, or immigration purposes.
It's important to understand the PTE Academic exam to prepare well for PTE. The PTE Academic exam evaluates your English language skills in four key areas:
1. Speaking
2. Writing
3. Reading
4. Listening
Each area is meant to test a different part of your English skills, adding up to your overall score, which can be between 10 and 90.
Mastering PTE Academic: Your Path to English Proficiency
Enroll in a PTE coaching or preparation course in Pakistan to begin your journey. This will help you acquire the necessary skills and knowledge to excel in the PTE Academic exam.
Why Choose PTE Training Courses?
The PTE Preparation for Academic exam is renowned for its unique question formats and stringent time constraints. Enrolling in a PTE coaching or PTE preparation course is highly recommended to optimize your chances of success. Expert trainers tailor courses to focus on the specific requirements of the PTE Academic exam. They have in-depth knowledge of the test format and content, ensuring you receive targeted guidance.
1. Access to diverse practice tests is a hallmark of PTE training courses. These practice tests mimic the actual exam format and timing, familiarizing you with the test environment and question types.
2. The PTE speaking section is notorious for its challenges, including pronunciation, fluency, and content delivery. PTE coaching provides valuable strategies to excel in this section.
3. The PTE writing section skills evaluates your ability to construct well-organized essays and summaries. PTE training equips you with the necessary skills to succeed in this critical section.
4. The PTE reading section assesses your reading comprehension, while the PTE listening test section evaluates your ability to comprehend spoken English. PTE coaching hones these essential skills.
5. PTE training courses emphasize time management strategies, ensuring you can effectively allocate your time during the exam.
6. A rich vocabulary Building is a fundamental component of success in the PTE exam. PTE training helps you expand your vocabulary and use it effectively in various contexts.
PTE Online Courses
Virtual PTE courses provide the flexibility to study at your own pace, making them an ideal choice for individuals with busy schedules. They offer a structured curriculum, interactive lessons, and many practice materials. In Pakistan, a variety of PTE training options are available to cater to different learning preferences and needs.
Dedicated PTE Coaching centers offer comprehensive PTE training programs led by experienced trainers. They provide access to many resources, including practice materials and PTE mock tests, to help you achieve your target score.
PTE Study Materials
1. If you prefer self-study, you can acquire PTE study guides, books, and online resources tailored for PTE preparation. These materials cover all exam sections and often include tips and strategies.
2. Regularly taking practice tests is essential for improving exam readiness. PTE training courses provide an extensive library of practice tests to monitor your progress.
3. Joining a study group can be a cost-effective way to prepare for the exam while benefiting from collective learning and peer support.
4. Mock exams are designed to simulate the actual test environment, accurately assessing your readiness and helping you identify areas that require further improvement.
• Create an effective plan to maximize your PTE preparation and success.
• Discover how to access and interpret your PTE Academic exam scores.
PTE TEST PREPARATION COURSE ONLINE
These courses are designed to assist you in improving your English language skills and familiarising yourself with the format and content of the PTE Academic test. Here are some key features and benefits of online PTE test preparation courses:
1. Online courses offer the flexibility to study at your own pace and schedule, making them ideal for individuals with busy lifestyles or varying time zones.
2. These courses typically cover all sections of the PTE Academic exam, including Speaking, Writing, Reading, and Listening, providing you with a well-rounded preparation.
3. Many online courses provide access to practice tests that simulate the actual PTE exam. These practice tests help you become familiar with the test format, question types, and time constraints.
4. Online courses often feature experienced instructors or PTE experts who can guide you through the preparation process, offer feedback on your performance, and provide strategies to improve your scores.
5. Some courses include interactive lessons, exercises, and activities to enhance language skills. They may also offer live or recorded video lessons to reinforce your learning.
6. Online platforms often allow you to track your progress and identify areas where you need improvement, enabling you to focus on your weaknesses.
7. You'll have access to various resources, such as study materials, sample questions, and vocabulary-building exercises, to support your preparation.
8. Full-length simulated tests are available in online courses to help you assess your readiness and test-taking stamina.
9. Online courses can be a cost-effective option compared to traditional in-person classes, as they eliminate the need for travel expenses and physical materials.
Mastering the PTE Academic Exam
PTE Exam Format and Duration
The PTE test format comprises three main sections, each with its unique set of tasks and challenges:
1. Speaking and Writing (together): This section spans approximately 77 to 93 minutes and encompasses a personal introduction, reading aloud, repeating sentences, describing images, re-telling lectures, answering short questions, and summarizing written text.
2. Reading: The reading section lasts approximately 32 to 40 minutes and includes multiple-choice questions, reordering paragraphs, and fill-in-the-blank exercises. This section evaluates your ability to comprehend and interpret written English materials.
3. Listening: The listening section spans approximately 45 to 57 minutes and consists of tasks like multiple-choice questions, summarizing spoken text, multiple-choice questions with multiple answers, filling in the blanks based on auditory content, and highlighting correct summaries. This section assesses your listening skills, including comprehension and note-taking abilities.
Understanding the PTE Test scoring system is crucial for setting realistic goals. PTE Academic scores range from 10 to 90, with score increments of 1 point. Your overall score reflects your English language proficiency, with higher scores indicating greater language skills. Different institutions and organizations may have specific score requirements, so it's essential to research and verify the score expectations of your intended destination or institution.
PTE Exam Tips and Strategies
To maximize your PTE Academic score, consider implementing the following PTE test day tips and PTE exam strategies:
1. Practice time management rigorously during your preparation to complete each section within the allocated time. Proper time allocation is critical for success.
2. Focus on clear pronunciation and natural fluency in the speaking section. Work on your accent, rhythm, and intonation to communicate effectively. Brush up on your PTE grammar skills and expand your PTE vocabulary building for the writing and speaking sections. Utilize a variety of sentence structures and vocabulary to showcase your language proficiency.
3. Consistent practice is key to success in the PTE Academic exam. Leverage the practice materials in your chosen PTE training course to improve your skills and build confidence.
4. Take full-length simulated tests to replicate the real test environment. These tests help you acclimate to the exam conditions and enhance your test-taking stamina.
5. After each practice session or mock test, analyze and learn from your mistakes. Identifying and rectifying errors in your practice sessions will help you avoid repeating them in exams.
PTE Training Institutes in Pakistan
To assist you in commencing your PTE Academic journey in Pakistan, here are some renowned PTE training institutes available for both physical and online classes in major cities of Pakistan:
Karachi
Lahore
Islamabad
Success in the PTE Academic exam ultimately hinges on your dedication and preparation. By enrolling in a PTE training course in Pakistan, practicing consistently, and implementing effective strategies, you can attain the PTE score necessary to fulfil your academic or career objectives abroad. In conclusion, PTE training courses in Pakistan offer a valuable opportunity to enhance your English language skills and succeed in the PTE Academic exam in different PTE test centers in Pakistan. With diligent preparation, unwavering dedication, and the support of reputable training institutes, you can unlock new horizons for your future abroad. Best of luck on your PTE Academic journey!
Curriculum
0 Sections
0 Lessons
0 Quizzes
16h Duration