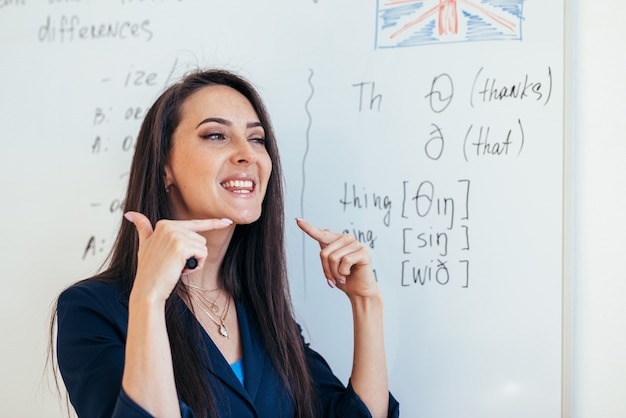 Spoken English
Looking For Spoken English Preparation Course Online ?
Make your success story
Are you looking to enhance your English communication skills? Do you want to excel in conversations, job interviews, or academic pursuits? Look no further! Our top-rated spoken English course in Pakistan is designed to empower you with the language fluency you need to succeed.
At FAST IELTS, we understand the significance of English in today's globalized world. English isn't just a language; it's a powerful tool that can open doors to personal and professional opportunities. In Pakistan, as in many parts of the world, English proficiency is often a requirement for academic admissions, job placements, and career advancements. That's why we offer comprehensive English-speaking classes in Pakistan that cater to diverse learners.
Learn English in Pakistan with our experienced instructors who employ interactive teaching methods and immersive learning experiences. Effective Communication is key to personal and professional Growth, so our courses focus on practical, real-world scenarios.
What Is Spoken English?
Spoken English refers to the ability to use the English language for verbal communication. It encompasses the skills and proficiency required to speak and understand English in real-life conversations, interactions, and everyday communication situations. Spoken English is a vital aspect of language fluency, as it allows individuals to express themselves effectively, understand others, and engage in various social, professional, and academic settings.
Key elements of spoken English include:
1. Pronunciation: The correct pronunciation of English words and sounds is essential for clear communication. Proper pronunciation ensures that the speaker can be easily understood by others.
2. Fluency: Fluency refers to the ability to speak English smoothly and without frequent pauses or hesitations. Fluent speakers can express their thoughts and ideas without struggling to find words or formulate sentences.
3. Vocabulary: A good vocabulary is important for varied and precise communication. It involves knowing a wide range of words and phrases to express different concepts and emotions.
4. Grammar: While spoken English tends to be less formal than written English, basic grammar rules are still important to convey messages accurately. This includes using correct verb tenses, sentence structure, and word order.
5. Listening Skills: Effective communication is a two-way process. Good spoken English also involves being a good listener, which means understanding what others are saying and responding appropriately.
6. Conversational Skills: This includes the ability to engage in conversations, ask questions, give responses, and participate in discussions. Effective conversational skills involve both speaking and listening effectively.
Spoken English is essential in various contexts, such as:
- Social Interaction: Spoken English allows individuals to connect with friends, family, and acquaintances, and to engage in everyday conversations.
- Professional Communication: In the workplace, spoken English is crucial for meetings, presentations, negotiations, and networking. It often plays a significant role in career advancement.
- Academic Settings: Students need strong spoken English skills to participate in classroom discussions, deliver presentations, and excel in exams like TOEFL and IELTS.
- Travel and Tourism: When travelling or interacting with people from different countries, spoken English can be a valuable asset for communication.
- International Business: English is the global language of business, and strong spoken English skills are essential for companies involved in international trade and collaboration.
Conversational English courses in Pakistan aim to improve these skills, helping individuals become confident and effective speakers in various situations. These courses often focus on practical, real-life scenarios and provide opportunities for practice and feedback to enhance spoken English proficiency.
Unlocking Your Full Potential with Spoken English Courses in Pakistan
1. Tailored Learning: Our courses are designed to meet your specific needs and proficiency level. Whether you're a beginner aiming to build a strong foundation or an advanced learner seeking to refine your skills, our courses have covered you.
2. Practical Focus: Our English language training in Pakistan goes beyond textbooks and grammar rules. We emphasize practical conversational skills that will boost your confidence in day-to-day interactions.
3. Pronunciation Mastery: Are you struggling with pronunciation? Our expert coaches will help you improve your English pronunciation in Pakistan. We understand the importance of clear and articulate speech, and our specialized modules will assist you in achieving just that.
4. Online Flexibility: For those with busy schedules, our online spoken English course in Pakistan offers flexibility and convenience. You can access our high-quality language training from the comfort of your home or office.
5. Proven Excellence: FAST IELTS is renowned as the best spoken English institute in Pakistan for a reason. Our track record of success stories and satisfied students speaks volumes about our commitment to excellence.
6. Diverse Opportunities: Don't let language barriers hold you back. Enroll in our English language coaching in Pakistan and open doors to countless opportunities. Whether you're looking to excel in your career, ace your IELTS or TOEFL exams, or become a more confident communicator, we have the perfect English-speaking program in Pakistan for you.
7. Advanced Learning: Start your journey towards English language proficiency in Pakistan today. Join FAST IELTS and become a fluent English speaker. Our advanced English-speaking course in Pakistan is your ticket to success.
8. Engaging Conversations: Experience the joy of effortless Communication with our engaging and practical English conversation practice in Pakistan. You'll gain the skills and knowledge to navigate social and professional settings easily.
9. Business Communication: For professionals, we offer a specialized business English course in Pakistan to help you excel in the corporate world. Effective Communication is a vital skill for career growth, and we're here to support your journey.
10. Beginner's Welcome: Are you new to learning English? Our spoken English for beginners in Pakistan provides a comfortable and supportive environment to kick-start your language journey.
11. Education Abroad: Join FAST IELTS, the leading English language school in Pakistan, and become part of a community that values language learning and personal Growth. Prepare for success in international exams like IELTS with our IELTS speaking course in Pakistan. Our experienced instructors will equip you with the skills and confidence to excel in all exam sections.
12. TOEFL Preparation: Looking to pursue higher education abroad? Our TOEFL speaking preparation in Pakistan will prepare you for the TOEFL exam, ensuring you meet the language requirements of your dream universities.
13. Workshops and Enhancement: Don't miss out on our special English language workshops in Pakistan. These interactive sessions provide additional practice and insights to enhance your language skills further.
Invest in your future today. Choose FAST IELTS for professional English speaking in Pakistan and unlock opportunities. Our commitment to your success is unwavering, and we are here to guide you on your English language journey.
The Importance of Spoken English in Pakistan
In Pakistan, as in many countries, English is not just a language; it's a symbol of prestige, a gateway to global opportunities, and a critical skill for personal and professional development. Here's why investing in your spoken English classes is a wise choice:
1. Career Advancement: In the competitive job market of Pakistan, English proficiency is often a prerequisite for career growth. Many multinational companies and leading local organizations require employees to have strong English communication skills.
2. Educational Opportunities: English proficiency is crucial when planning to study abroad or seeking admission to prestigious Pakistani universities. It's a key component of IELTS and TOEFL exams, commonly required for academic admissions.
3. Effective Communication: English is the language of global business and diplomacy. Communicating fluently and confidently in English opens doors to effective Communication with international partners and clients.
4. Networking: English fluency enhances your ability to connect with people from diverse backgrounds. It broadens your horizons and allows you to build relationships on a global scale.
5. Personal Growth: Beyond career and education, improving your spoken English skills boosts self-confidence and empowers you to express your ideas and opinions effectively.
Why Choose FAST IELTS?
At FAST IELTS, we are committed to providing Pakistan's best environment for learning and mastering spoken English. Here's what sets us apart:
1. Experienced Instructors: Our team of experienced instructors is dedicated to your success. They bring knowledge and expertise to the classroom, ensuring you receive the highest quality education.
2. Interactive Learning: Language learning should be engaging and interactive. Our classes are designed to encourage active participation, allowing you to practice your spoken English skills in a supportive environment.
3. Customized Curriculum: We understand that each student is unique. That's why we offer a variety of courses to cater to different proficiency levels, from beginners to advanced learners. Our spoken English course for beginners in Pakistan provides a strong foundation, while our advanced English-speaking course takes your skills to the next level.
4. State-of-the-Art Facilities: When you choose FAST IELTS, you can access state-of-the-art facilities that enhance your learning experience. Our classrooms have the latest technology to facilitate effective teaching and learning.
5. Online Learning: We recognize the demands of busy schedules. If you can't attend in-person classes, our online spoken English course in Pakistan allows you to learn at your own pace, from anywhere.
6. Proven Results: Over the years, we've helped countless students achieve their goals of becoming fluent English speakers by offering fluent English courses in Pakistan. Our success stories are a testament to the effectiveness of our courses.
7. Community of Learners: When you join FAST IELTS, you become part of a vibrant community of learners who share your passion for language. You'll be able to practice your English skills with fellow students and build lasting connections.
8. Continuous Support: Our commitment to your success doesn't end with completing a course. We offer ongoing support and resources to help you maintain and enhance your spoken English skills.
Invest in Your Future:
Communicating effectively in English is an invaluable asset in a rapidly evolving world. Whether pursuing higher education, aiming for career growth, or simply seeking personal development, our spoken English courses in Pakistan are your pathway to success.
Don't let language barriers hold you back. Join FAST IELTS today and embark on a journey to transform your life. Our courses are designed to equip you with the skills and confidence needed to excel in the English-speaking world.
Curriculum
0 Sections
0 Lessons
0 Quizzes
16h Duration